Every Thursday, from 11/02/2017 to 12/21/2017, 6:30 PM - 8:00 PM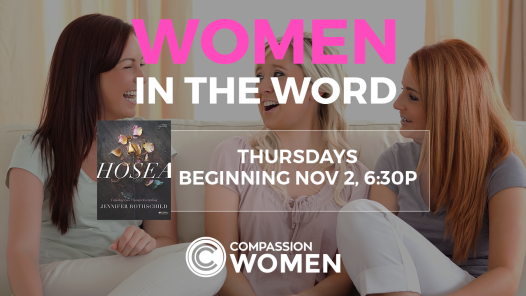 Join us for a new ladies Bible study beginning Thursday November 3rd at 6:30 pm. We will meet in the upstairs meeting room in the Compassion Kids building. All ladies are welcome and you can join in anytime!
We will be studying Hosea together.
Study description:
When you are looking for identity, God calls you His own. When you feel enslaved, God frees you. When you wander away, God brings you home. No matter where you are, God sees who you are and loves you faithfully. His unfailing love changes everything.
Hosea is for you. It's about an unlikely couple, an unusual friendship, and an illicit affair. But the marriage didn't end; instead,k a love story began. It's Hosea and Gomer's love story and it is your love story.
Cost of class that includes workbook is $15. Click here to register today! You can pay through the registration link or select "Pay Later" and pay by cash or check at class. See you there! *No childcare is available for this study.