Compassion Women
WELCOME
The Women's Ministry at Compassion Church is for all women - no matter your age, background or life stage. Our desire is multi-faceted:
to meet ladies right where they are and come along side them - encouraging, supporting, praying and equipping them in their journey with God

to grow our faith and demonstrate His love and grace through our lives and relationships.

to have a deeper, Christ-centered relationships with each other through women's small groups, prayer meetings, fellowships and mentoring

to encourage and equip women to faithfully and fully use their God-given gifts to glorify God

to help every woman to feel loved and accepted for who she is in Christ so that she is transformed and empowered to live out Christ's love and grace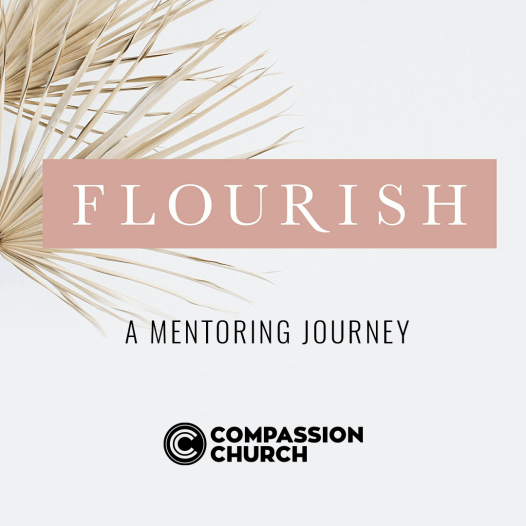 FLOURISH A mentoring Journey is a year-long commitment that connects women at Compassion Church in a curriculum-based mentoring relationship to encourage and challenge one another in their walks with Jesus. FLOURISH calls women to a deeper relationship with Jesus while surrounded by friends and a mentor!
Mentee Expectations
Flourish is a 1 year commitment

Cost is $30 for the mentee journal

You will be matched to a mentor by the Flourish Team

Have focused time with Jesus 5 days a week

Mentor will check in with you weekly via email or text

Meet with mentor in person 1 day a month

Set goals and work diligently to reach them

Be accountable in areas where it's been agreed that growth is needed
Year at a Glance
The Word : Weeks 1-6

Prayer : Weeks 7-14

Identity : Weeks 15-23

Calling : Weeks 24-32

Kinship : Weeks 33-41

Gratitude : Weeks 42-49
If you are ready to sign-up for this amazing year-long journey that will help you grow in your faith, be sure to click the link below to register and and obtain the application. You can also register are February 2nd - 26th, 2020 and the kickoff is Saturday, February 29th, 2020 @ 10am! Let's grow together!