Compassion Women
WELCOME
The Women's Ministry at Compassion Church is for all women - no matter your age, background or life stage. Our desire is multi-faceted:
to meet ladies right where they are and come along side them - encouraging, supporting, praying and equipping them in their journey with God

to grow our faith and demonstrate His love and grace through our lives and relationships.

to have a deeper, Christ-centered relationships with each other through women's small groups, prayer meetings, fellowships and mentoring

to encourage and equip women to faithfully and fully use their God-given gifts to glorify God

to help every woman to feel loved and accepted for who she is in Christ so that she is transformed and empowered to live out Christ's love and grace
NEW BIBLE STUDY STARTING FEBRUARY 21, 2021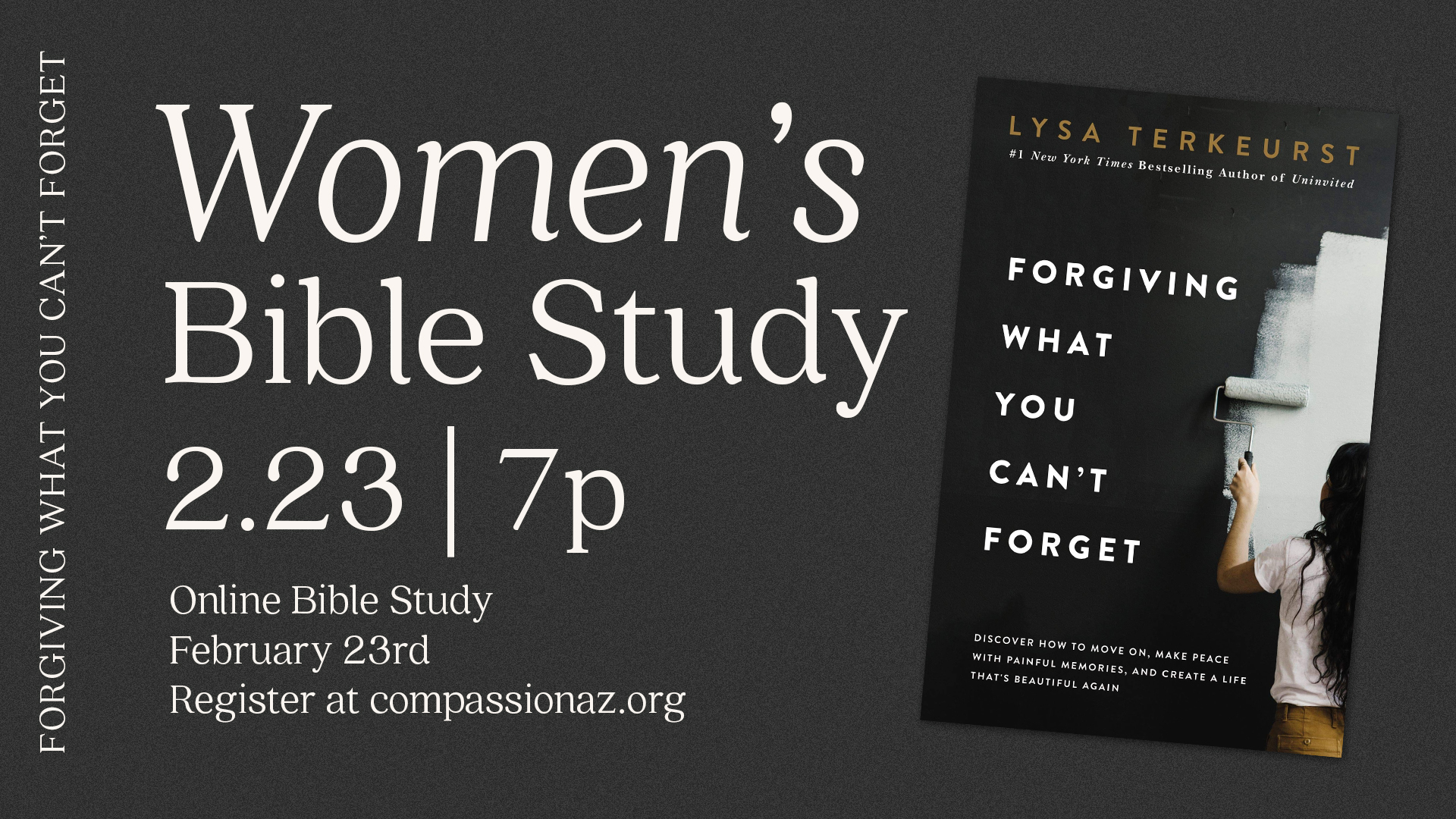 Come join us on Tuesday nights for a 6 week online Bible study beginning February 23 from 7-8:15 pm! We will be studying the topic of forgiveness by Lysa Terkuerst new book, How to Forgive what you can't forget.
Come enjoy authentic community and vulnerability as we learn about this together! Invite your friends to join you!
Please use the links below to purchase the book and study guide!
Click
HERE
to purchase the Book
Click
HERE
to purchase the Study Guide
ABOUT THE STUDY:
Have you ever felt stuck in a cycle of unresolved pain, playing offenses over and over in your mind? You know you can't go on like this, but you don't know what to do next. Lysa TerKeurst has wrestled through this journey. But in surprising ways, she's discovered how to let go of bound-up resentment and overcome the resistance to forgiving people who aren't willing to make things right.
With deep empathy, therapeutic insight, and rich Bible teaching coming out of more than 1,000 hours of theological study, Lysa will help you:
Learn how to move on when the other person refuses to change and never says they're sorry.
Walk through a step-by-step process to free yourself from the hurt of your past and feel less offended today.
Discover what the Bible really says about forgiveness and the peace that comes from living it out right now.
Identify what's stealing trust and vulnerability from your relationships so you can believe there is still good ahead.
Disempower the triggers hijacking your emotions by embracing the two necessary parts of forgiveness.