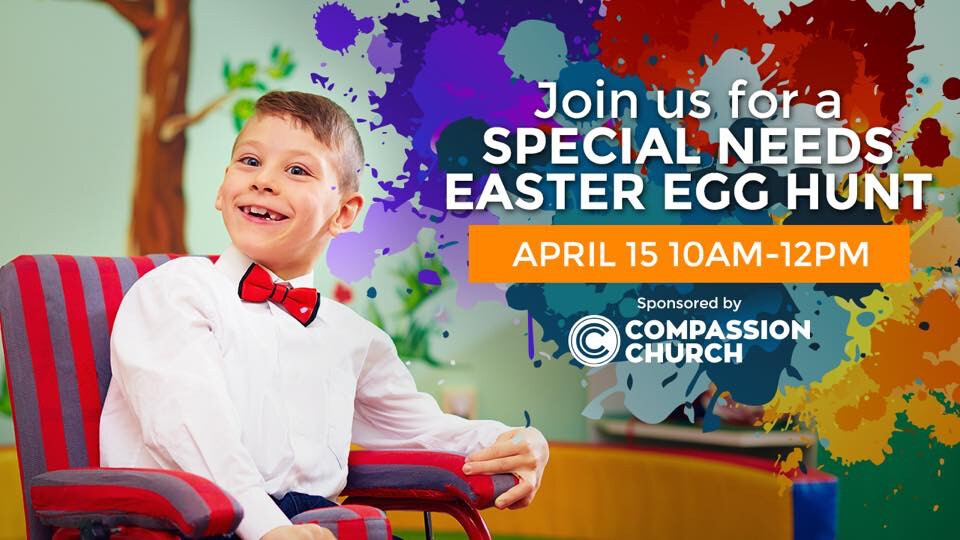 Saturday, April 15, 2017, 10:00 AM - 12:00 PM
If you have a special needs child, we would love you to join us for this FREE event sponsored by Compassion Church. We will have several egg hunt options for you to choose from. Sign up at the registration link below.

Quiet Egg Hunt: For children on the autism spectrum or children with sensory processing issues who need a quieter environment.

Beeping Egg Hunt: For children who are blind or visually impaired. Slightly larger beeping eggs are placed in the grass and once found, beeping eggs are traded for filled plastic eggs.

Magnetic Egg Hunt: For children with wheelchairs or mobility restrictions. Magnetic eggs are placed on a hard surface area and poles with magnets on them allow children to collect magnetic eggs. Magnetic eggs are then traded in for filled plastic eggs.
General Egg Hunt: A General Egg Hunt for children with other disabilities and siblings of children involved in the other hunts.