Compassion Project
august 2017: facebook check-in partner & community outreach
FACEBOOK CHECK-IN PROJECT FOR august 2017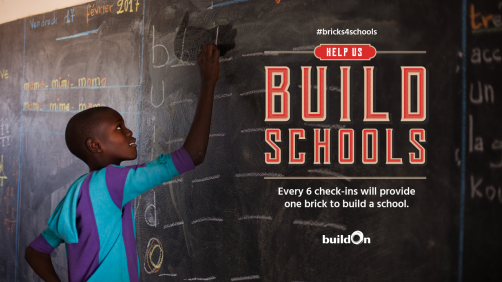 For August, we're so excited to partner with buildOn to provide bricks to build a school in Nicaragua. For two decades buildOn has mobilized rural communities in some of the economically poorest countries on the planet. Every 6 check-ins will provide 1 brick to build a school. #bricks4schools
Watch to learn more about buildOn


compassion community Outreach
august 2017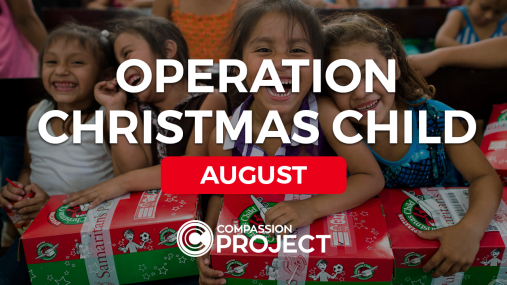 For August, we are partnering with Operation Christmas Child to begin collecting items for children in need. Operation Christmas Child demonstrates God's love to children in need worldwide by delivering gift-filled shoeboxes and the good news of Jesus Christ!
Here are ways YOU can get involved:
1. Consider packing a box (or boxes) as an individual or family. This means you will pack a box from start to finish, choosing the age and gender of the child and filling a box for that child. You will bring these filled boxes to Compassion in October.
2. Participate in the church packing party in October. The packing party is a wonderful night of fellowship, pooling our resources together to spread the Gospel. The GOAL for our church is to pack 250 BOXES!
For a packing party, church members collect items to put in the boxes, bring those items to church, and we pack as many boxes as we have things for. This year, our packing party will focus on Boys and Girls ages 10-14; the age range that receives the fewest boxes each year (see ideas below).
What can you do now? While shopping, look for items that are on sale or clearance. For example, you might come across socks on clearance for $.25/pair. Instead of buying one pair to put in your individual box, buy 20 pairs! At the packing party, that will mean socks in 20 boxes. When you are buying school supplies, think about adding a few extra to your cart for shoeboxes. As you go by summer clearance aisles in the stores, look for great deals on clothes and toys. Think about the people you know who might have connections to be able to donate items like toothbrushes, bars of soap, or toys.
All this month, there will be a table outside Compassion Church before and after the service. Stop by the table, talk to our church coordinators, and sign up to be added to the special Facebook page for Compassion's Operation Christmas Child group. They can give you some great ideas of things that should go in a box — everything from bookmarks to scrapbook paper to jump ropes to toys and more. Everyone can participate in some way to make this the best year yet. If you buy items for the packing party and you don't want to keep them in your home, we will be collecting them this month to store at the church until the packing party in October.
Ideas for Boys and Girls ages 10-14:
School supplies (paper, crayons/colored pencils, pencils, scissors, pencil sharpener, solar calculator)
Hygeine items (toothbrush, soap, washrag)
Toys (stuffed animals, soccer balls with pump, jump ropes, yoyos, coloring books, puzzles etc)
Clothing items (socks, shirts, scarves, caps, gloves, costume jewelry, shoes/flipflops)
The BIG NOs: No food, no candy, no toothpaste, no liquids, no war toys or camo items, no glass/breakable
Check out this inspiring video about how you can make a difference!