Compassion Project
november 2017: facebook check-in partner and compassion project
FACEBOOK CHECK-IN PROJECT FOR novemBER 2017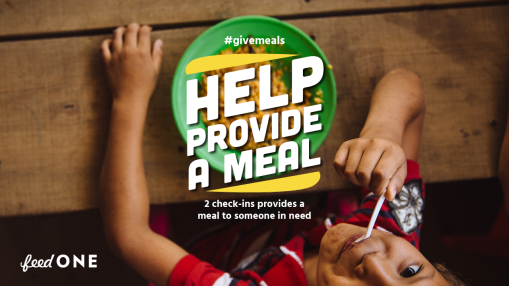 This November, every 2 Facebook check-ins at Compassion Church will provide a meal to a child in need. We're working with Reach by Causely and feedOne to make it happen. You can add #givemeals when you check in to promote the cause. For more information about this month's mission, check out www.feedone.com
Please remember to check-in at Compassion Church on Facebook everytime you are on campus this month and tag your friends! We are feeding the hungry together!
november compassion project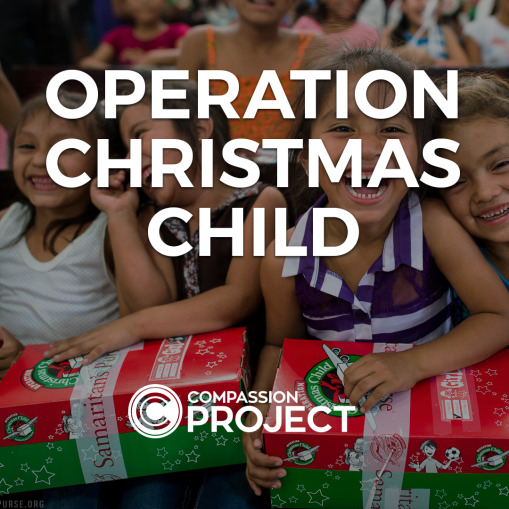 For this month's Compassion Project, we are partnering with Operation Christmas Child to collect items for children in need. Operation Christmas Child demonstrates God's love to children in need worldwide by delivering gift-filled shoe boxes and the good news of Jesus Christ!
Here are ways YOU can get involved:
1. Consider packing a box (or boxes) as an individual or family. This means you will pack a box from start to finish, choosing the age and gender of the child and filling a box for that child.
2. Donate items needed to pack the shoe boxes for the packing party. You can drop off your items in the church lobby anytime between November 1 - 15th or just bring them with you to the packing party! (See a list of needed and prohibited items below).
3. Participate in the church packing party on November 15th at 6:30. The packing party is a wonderful night of fellowship and pooling our resources together to spread the Gospel. We need you! The whole family is welcome to participate!
For a packing party, we pack as many boxes as we can using the items the church has collected.
Example of items to purchase:
School supplies (paper, crayons/colored pencils, pencils, scissors, small notebooks, pencil sharpener, solar calculator)
Hygeine items (toothbrush, soap, washrag)
Toys (stuffed animals, soccer balls with pump, jump ropes, yoyos, coloring books, puzzles etc)
Clothing items (socks, shirts, scarves, caps, gloves, costume jewelry, shoes/flipflops)
The BIG NO's:

No food, no candy, no toothpaste, no liquids, no war toys or camo items, no glass/breakables
To learn more about Operation Christmas Child and items needed, click here.