Compassion Project
march Compassion projecT

We may not be allowed to gather in large groups right now, but the Choices Pregnancy Centers WALK FOR LIFE is still ON! You can still participate in this amazing event by walking 2.5 miles in YOUR neighborhood between 8am - 11am on Saturday, April 4! If you do, be sure to share photos and videos of your walk on CPC's Facebook and IG pages for chances to win some fun prizes. Walk for Life is taking the message of #GreaterLove4Phx
to the streets on April 4th, don't miss out!
wear your compassion church t-shirts!
When you participate in the CPC Walk for Life, you:
Declare your belief that all life is sacred and should be protected.
Help raise the funds necessary to give women the support they need to say NO to abortion and YES to LIFE!
Promote Biblical values and strong families through our LifePath mentoring and educational programs.
Get to meet new friends, spend a great morning with your church, friends and family and have FUN!
To walk with Compassion Church on Saturday April 4th, click here to register as a walker and be sure to join the "Compassion Church" team with Compassion Church. Bring the whole family! Click here to learn more about this organization! Be sure to wear your Compassion t-shirt! If you still need one, they can be purchased in Guest Services any Sunday in March!
Let's bring awareness to this amazing organization and cause!
---
march facebook check-in partner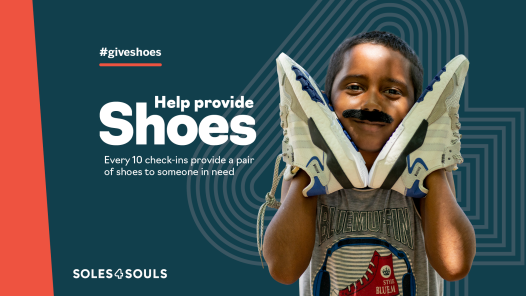 Help us show global compassion by checking in at Compassion Church by checking in on Facebook! This month we are partnering with Causely and Soles for Souls to help provide shoes for those in need. Use the hashtag #soles4souls