Compassion Students
WELCOME!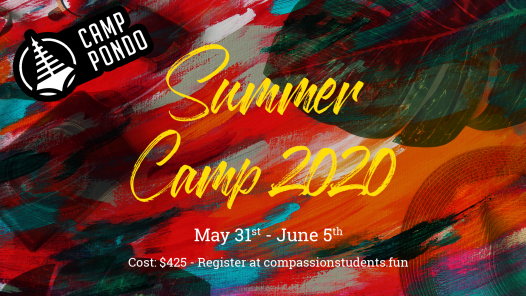 Student Summer Camp Registration
Is Happening Right Now!
Compassion Students is going to Camp Pondo in Running Springs, CA for Summer Camp! This is for all students going into 7th-12th grade for the 2020-2021 school year. The cost is $425/student and if you register by March 31st the cost is reduced to only $375/student. To learn more about the camp and all it has to offer go to pondo.org.
---
SUMMER CAMP FUNDRAISERS

To be able to keep the camp cost as low as it is and hopefully provide financial aid to those that need it. We are doing a fundraising wall on Sunday mornings on the patio! Students and parents are encouraged to help man the wall after each service on Sunday! Email Pastor Dale @ to let him know if you can help be sure to visit the donation wall on Sunday!
If you'd like to make a tax deductible donation online, click below. All proceeds will be directly used for summer camp!
---
The Wave Starts In The Student Section!
If anyone is going to change the world, it's the next generation. Compassion Students is our student ministry for students 7th-12th grade. It's designed to give them a place where they can connect with God, with other people, and have fun.
LOCATION & TIMES WE MEET
Students meet in the Student Center located upstairs in the Next Gen building! Come check it out and bring a friend!
Student Center opens at 10:15am every Sunday. Come hang out, meet other students and grab a snack!
Student Service: 10:30am every Sunday in the Student Center
Compassion Students also have many other events and outings throughout the month! Be sure to check out the events page and look for Compassion Students events!
purpose
Our goal is to provide an open atmosphere where students can know that they matter. Where students can be honest, open, heard, accepted, and equipped to live as a light for Christ. We do this by...
Extending the love of Christ to friends.

Being a light to those in darkness.

Igniting the passion for God in each other.

Increasing in knowledge of God's Word.

Growing in the character of Christ.

Serving in the church.

Serving in the community.

Serving in the world.
Questions? Email us at